high performance in build & quality

E36 REAR SUBFRAME BUSHINGS

There are the four subframe bushings that connect the subframe to the E36 chassis. These are the base for all of the rear suspension! These polyurethane E36 subframe bushings are ideal for both street and track use. We offer two durometers: 80A for the street-driven vehicle and 95A for the track day machine. These bushings provide a significant improvement over the factory rubber units but fit just like OEM. We have precision formed these bushings to ensure that they clear the weld beads and all the varied surfaces of the E36 chassis. That's how well these fit! What this does is ensure a tight fit and reduce the amount of flex experienced by the rear subframe and allow better power transfer and more consistent handling.
The additional stiffness that the poly or Delrin E36 rear subframe bushings provide means that your subframe will stay in its intended location resulting in a more predictable, and planted E36. These bushings are an absolute must for E36 cars that see constant track use. These bushings provide an overall improvement during on/off throttle loading, cornering, weight transfer, etc.
NOTE ON THE DIFFERENCES OF POLY AND DELRIN IN THIS APPLICATION

We offer the BMW E36 Rear subframe bushings 3 different materials: 80A poly, 95A poly, solid Delrin, and Aluminum. Each material has its intended application and benefits. The 80A poly is the happy medium between upgraded bushings and plush OEM rubber. It is intended for the spirited street driver, and occasional Auto-X and track use. It offers a definite increase in performance with a limited increase in noise transfer and harshness. The 95A is the next tier up on the poly scale, offering a stiffer material than 80A and increased performance to match. If you have a car with a louder exhaust and or a car intended for only weekend use in the canyons or on Auto-X and track circuit this is the bushing for you. Finally, the solid Delrin and Aluminum bushings are for the ultimate in performance. These stiff solid bushing offers almost no deflection, keeping the rear end as tight as you can get it! It is designed for the truly hardcore racers and track enthusiasts.

Material: Polyurethane 80a, 95a or Delrin
E36 Bushing: Replaces 33319059301, 33319066671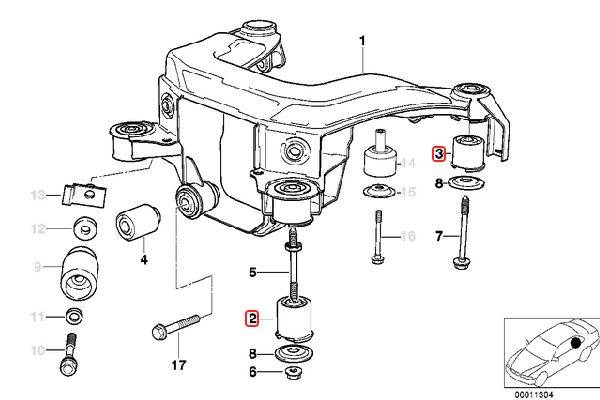 E36 Rear Subframe Bushing Replacement
02 Set rubber mounting QTY: 1 (Per Side) Part Number: 33319066671
03 Set rubber mounting QTY: 1 (Per Side) Part Number: 33319059301

4x Rear Subframe Bushings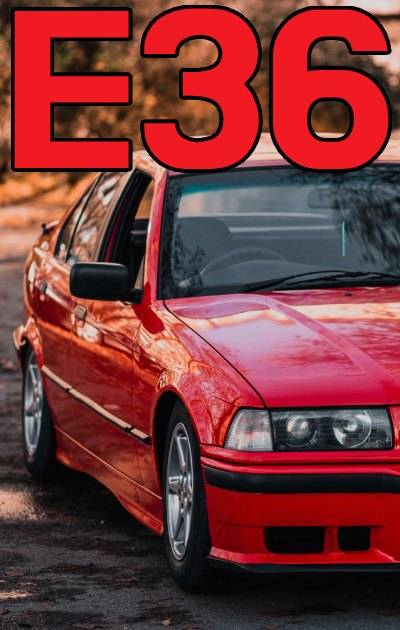 Fits E36s Including M3
Does NOT Fit 318ti

YOU MIGHT BE INTERESTED IN....
INSTALLATION NOTES FOR E30

The Garagistic Poly E36 subframe bushings are labeled as top front, top rear, lower front, and lower rear. There are two of each. Front bushings will have smaller bolt holes, while the rear bushings will have larger bolt holes. The four bottom bushings are identical in appearance aside from the difference in bolt hole sizes. Delrin subframe bushings are not labeled but can be identified by the bolt hole size and face design.
1) Position the subframe as if it were installed in the car and stand at the rear of the subframe, sway bar tabs close to you
2) Grease the four top bushings and use a mallet to tap them in
3) Flip the subframe over, grease the four lower bushings and use a mallet to tap them in
*Delrin bushings may need to be pressed in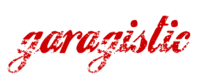 You've seen thecosts of shipping from overseas - not to mention those pesky Import GST& Duty add-ons. Buy local and get your product sooner!

aussie, aussie, aussie....oi oi oi!

Australian Owned & Operated!


Every order is packed with a BSS sticker!


Call, Email or SMS us anytime. We are here to help you find the right part.


What's that? more parts!?

We are constantly looking to expand our product range. Support BSS and we will support you with a wider range of quality parts!