high performance in build & quality

E36 / E46 (NON-M) FRONT DIFFERENTIAL BUSHING

Have you have ever been in your E36 or E46 and as you release the clutch from a dead stop heard and felt a loud "thud" coming from the rear of the car? Or when you shift quickly or during hard use and every shift your differential sounds like it's trying to escape the rear of your car? Those noises are a sure sign of a worn or failed differential bushing. If you speak in BMW part numbers, then that would be 33171134871 for the E36 and 33176770788 X2 for the E46. These polyurethane mounts will eliminate play at the front differential mounting point allowing for better power transfer to the wheels and no more clunks and thuds! Keep your diff in line with Garagistic polyurethane differential mounts for your E36/E46.
E36 chassis (except Ti) will require
1
of these bushings
E46 (non-M) chassis will require
2x
of these bushings
Z4 (non-M) chassis will require 2x of these bushings

Should I use POLY or DELRIN for my diff bushing?
We have this diff bushing available in 80a (soft poly), 95a (hard poly) and full-on Delrin. The stock front diff bushings are meant for comfort. It's meant to be quiet, so BMW allows for a little bit of movement for the sake of comfort. However, this design can fail under normal street use (and age) let alone any kind of performance driving. So we have the perfect solution. 80a soft poly is for that OEM + feel. That means you want a subtle upgrade for your street car without too much of a compromise in comfort, these are a happy medium. 80a are designed for the street enthusiast. 95a is great for dual purpose aggressive street and track applications. Delrin bushings are generally best for race applications only.
Replaces Part Number 33171134871 / 33176770788

Material: Polyurethane 80a, 95a or Delrin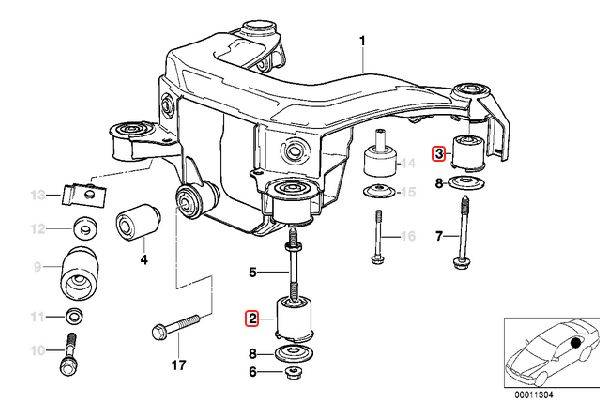 Replacement for E36

4 Rubber Mounting QTY: 1 Part Number: 33171134871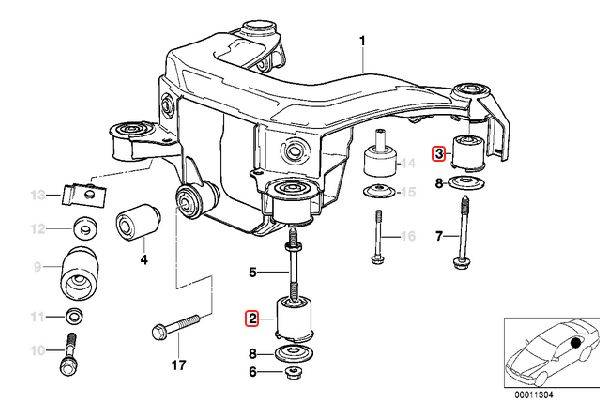 Replacement for E46

4 Rubber Mounting QTY: 1 Part Number: 33176770788

1x Front Differential Bushing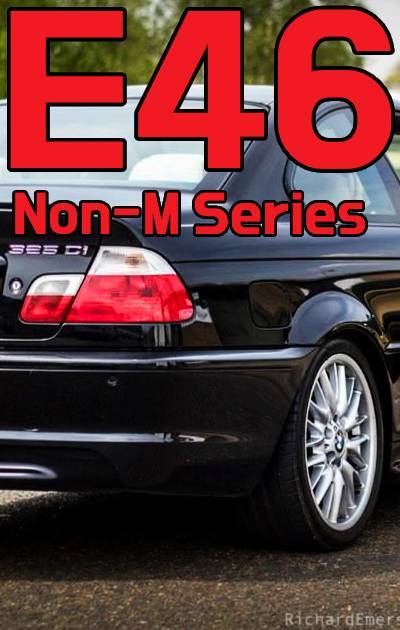 E36 chassis all (EXCEPT Ti) - Requires 1x

E46 chassis all (Except M cars) - Requires 2x

Z4 chassis all (Except M cars) - Requires 2x

YOU MIGHT BE INTERESTED IN....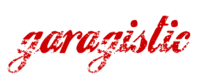 You've seen thecosts of shipping from overseas - not to mention those pesky Import GST& Duty add-ons. Buy local and get your product sooner!

aussie, aussie, aussie....oi oi oi!

Australian Owned & Operated!


Every order is packed with a BSS sticker!


Call, Email or SMS us anytime. We are here to help you find the right part.


What's that? more parts!?

We are constantly looking to expand our product range. Support BSS and we will support you with a wider range of quality parts!