high performance in build & quality

BRASS BRAKE ATE CALIPER GUIDE BUSHING SET

WHAT ARE BRASS ATE CALIPER GUIDE BUSHINGS?

Are your BMW brake pads wearing unevenly? Is your brake pedal starting to feel sloppy and unpredictable? Have the rubber bushings that guide your pin ever been changed? If not, then your caliper might be twisting! The stock rubber bushings allow for deflection - even more so when they are worn, which leads to uneven pad wear and rotor deposits when pushed to the limits. The last thing you need failing on your E30, E36, E46, E92, or any car for that matter are the brakes; most people underestimate the sheer importance of braking power on the track or autoX: The irony, braking power equals better track times for your little beemer!

Our brass guide bushings eliminate caliper twisting caused by rubber guide pin bushings. This brass bushing kit includes machined tight tolerance brass guide bushings and retaining clips that will allow your calipers to squeeze evenly on both sides of the brake rotor (similar to the way expensive multi-piston big brake kits squeeze evenly on both sides). An absolute must "while-your-at-it" when doing the brakes. Upgrading the bushings to brass (Only fits ATE calipers) will result in much longer pad life and more consistent brake pedal feel. These are a must if you race your BMW.

This brass brake bushing kit fits both the front or rear calipers (but sold per axle). The ideal set-up is to run both front and rear on your car. If the brakes on your E30, E36, E46, E92, or any of the other BMW's listed below start acting up, the diagnostic could very well be that the caliper is twisting, which is caused by OEM rubber guide pin bushings. Our Brass Brake ATE Caliper Guide Bushing Set would be an excellent combo with our stainless steel brake lines!
HOW HARD IS IT TO INSTALL A SET OF BMW BRASS BRAKE ATE CALIPER BUSHING GUIDES?

Installation for our brass brake bushing set is quite simple. They fit all front and rear BMW factory sliding single calipers made by ATE. Set of four; enough to do 2 calipers. So if you want to do front and rear, order 2 kits. This will require periodic lubrication.

WE HIGHLY RECOMMEND ALSO PURCHASING SLIDER PINS. OUR BUSHINGS ARE DESIGNED TO BE USE WITH ATE MADE PINS. PINS FROM OTHER MANUFACTURERS MAY NOT FIT, ALSO WORN OUT OR WARPED PINS HAVE BEEN KNOWN TO CAUSE INSTALLATION ISSUES.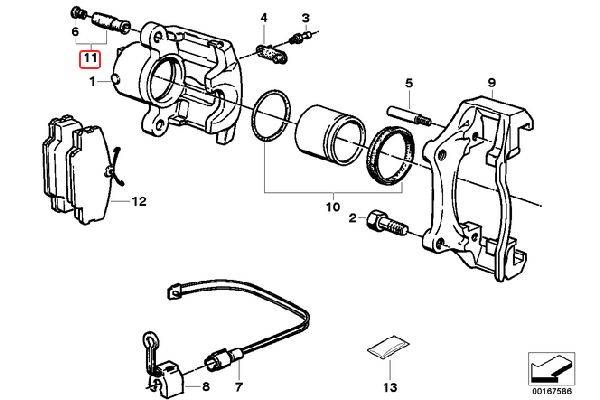 E36 Brake Caliper Example

05 Guiding bolt QTY: 2 (Per Side) Part Number: 34111157041

11 Repair kit guide bush QTY: 2 (Per Side) Part Number: 34216869617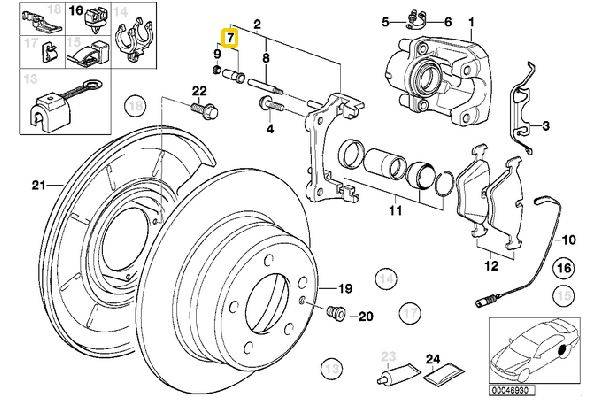 E36 Brake Caliper Example

07 Repair kit guide bush QTY: 2 (Per Side) Part Number: 34216869617
08 Guiding bolt QTY: 2 (Per Side) Part Number: 34111157041

4x Brass Brake Bushing

4x Slider Pins (Optional)
4x Circlip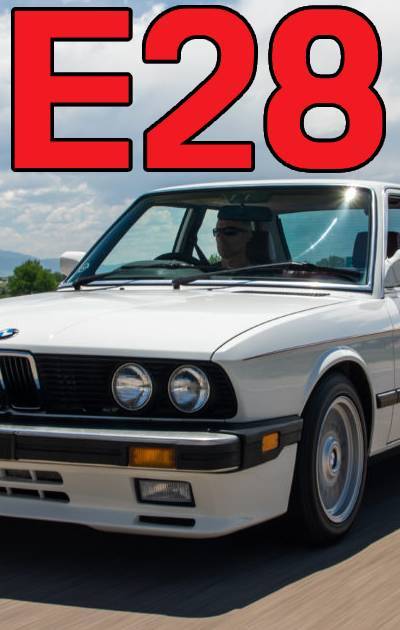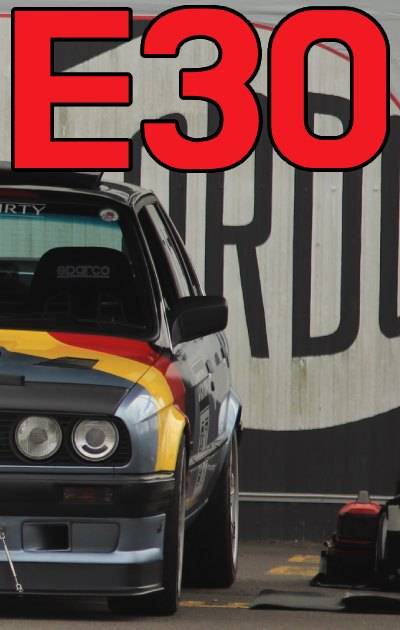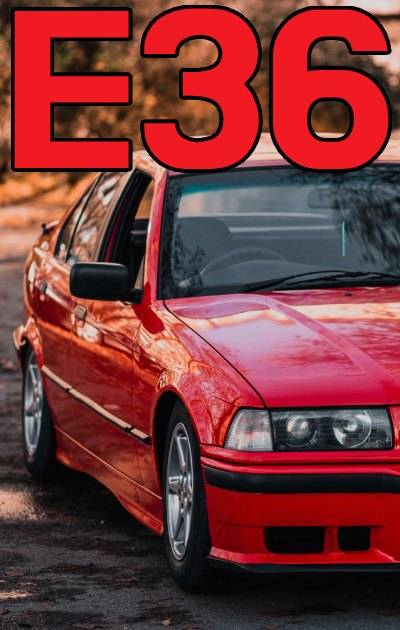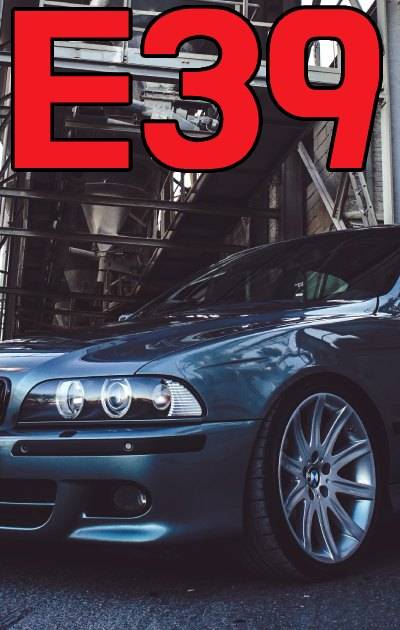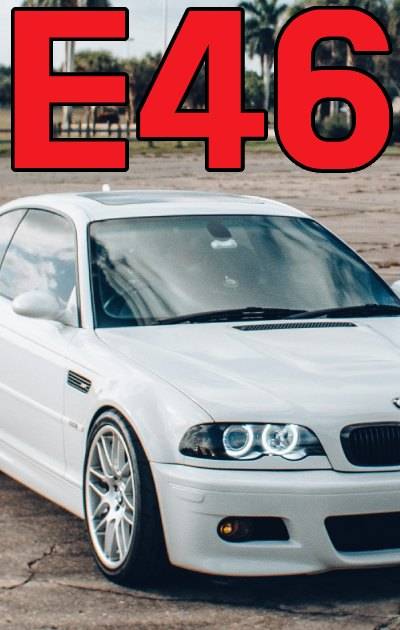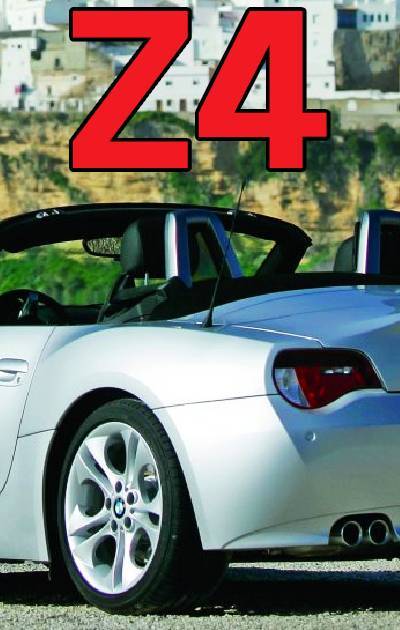 WILL THESE BRASS ATE GUIDE BUSHINGS FIT MY BMW?
This will fit ATE calipers on the following cars: E30 E23 E24 E28 E36 E46 E31 E32 E38 E39 E52 E53 E61 E62 E63 E64 E92 Z3 Z4 All MINI COOPERS
WHAT WILL THE BRASS ATE CALIPER GUIDE BUSHINGS NOT FIT?
This WILL NOT FIT any Girling E30 318/325 calipers, E28 M5, E24 M6, 850csi, E9x M3, 135i optional front 6-piston calipers. Please refer to this list before placing your order.
YOU MIGHT BE INTERESTED IN....
Decided to upgrade to Brass ATE Caliper Pin Bushings? Good idea! You'll be getting more even and consistent brake pad wear compared to the old stock, worn rubber pin bushings as well as better braking response because these bushings will eliminate the "flex" or "play" the stock worn rubber bushings provide. Since these bushings make the caliper evenly squeeze both brake pads together, that means more stopping power! But as opposed to rubber bushings these brass bushings do need to stay lubricated (greased) to work at their full potential.

Lets get started.

Step 1: Remove your wheel from the side you are working on. Next remove your caliper spring with a flat head screwdriver. Next remove the two caliper guide pins on the back side of your caliper, typically most BMWs use a 7mm allen head bolt.

Step 2: Now that you have the caliper free remove your brake pads. Then support the caliper safely so it does not hang from the brake line. Then using a flat head screwdriver, remove the old rubber caliper bushings. Now would be a good time to clean out the holes where the old bushings used to sit.

Step 3: Next lubricate your bushing with preferably high temp grease and slide in your new brass bushing, the lip part should be on the inside of the caliper, then attach your clip at the end of it. Your clip should be on the outside.

Step 4: Then make sure to lubricate your guide pins as well prior to inserting them into the caliper. Then remount your caliper and brake pads. Lastly check the torque specifications on the guide pins for your certain vehicle as over-tightening can cause the pins to snap or bind, and now you are all done!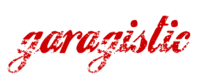 You've seen thecosts of shipping from overseas - not to mention those pesky Import GST& Duty add-ons. Buy local and get your product sooner!

aussie, aussie, aussie....oi oi oi!

Australian Owned & Operated!


Every order is packed with a BSS sticker!


Call, Email or SMS us anytime. We are here to help you find the right part.


What's that? more parts!?

We are constantly looking to expand our product range. Support BSS and we will support you with a wider range of quality parts!