high performance in build & quality

Free Shipping for Orders IN aUSTRALIA OVER $199

The Garagistic E36 X Brace is here. BMW knew that they could increase the rigidity and reduce flex by connecting the sub-frame to the frame rails on the E36. That's why their special M3 LTW cars, convertibles and Z3s came with the OEM X brace piece 51718410212 from the factory. However, that OEM piece is expensive, ugly, and requires front subframe modification (nutserts) to be able to use. We took all of those things into design consideration and came up with the Garagistic E36 X brace.

An X brace that requires zero modifications to the subframe, is aesthetically more pleasing, and can be installed in 15 minutes using hand tools. Not to mention, reinforcement left to right is more "symmetrical" than the OEM weirdness shape. Designed to help stabilize the frame and reinforce the lower front end removing chassis flex, our E36 x braces use the bolts in the steering rack as well as the control arm mounting points for a fully reversible install.

No modifications to any chassis components. This will fit all stock motor E36s (we have not tested all motor swap configurations yet). Comes with all new 10.9 grade hardware, everything needed for install. Again these cross braces are a direct bolt up that will not require subframe/chassis modification like the OEM piece. There is also good ground clearance even extremely lowered E36's. The structural rigidity added to the E36 due to the cross brace provides a clear advantage on the track or auto-X course. One lap around and you will be a believer. From the drivers seat you will experience increased rigidity over bumps and even roads. Have less pendulum motion from the motor, and less steering wheel shake. Your E36 will simply feel tighter because it is. This is 100% bolt up and is fully reversible. No drilling or permanent modification is needed to properly install.
DO NOT USE AS A LIFTING / JACKING POINT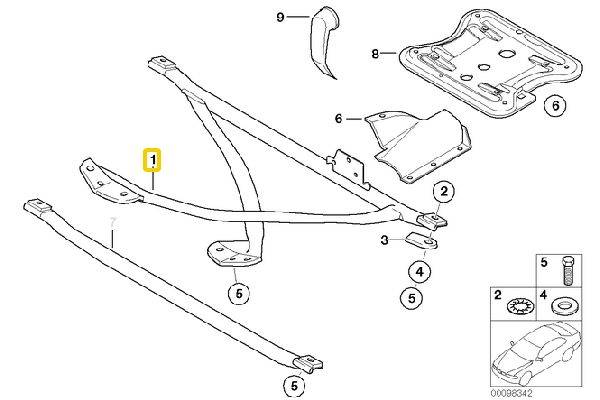 E36 X-Brace Replacement

01 Cross reinforcement QTY: 1 Part Number: 51718410212

1x E36 X-Brace
4x 10.9 Grade Bolts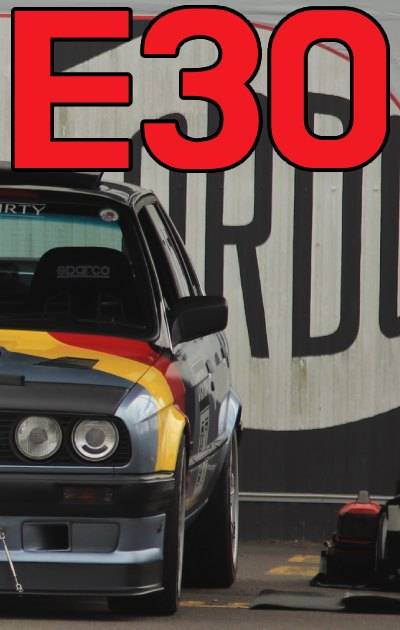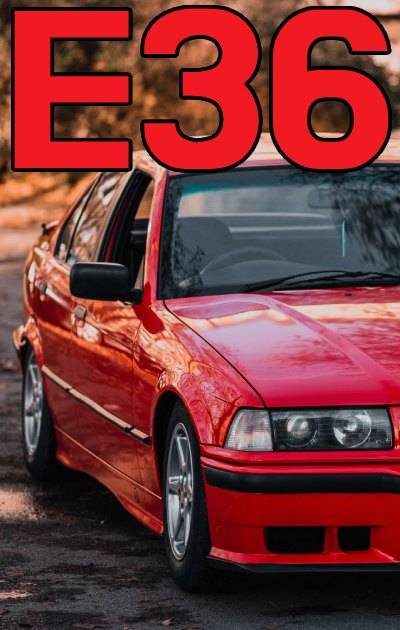 YOU MIGHT BE INTERESTED IN....
Step 1:
Remove the bolts for the front lower control arm bushings
Step 2:
Remove the rack and pinion bolts
Step 3:
Position the x-brace in place and start 2 bolts, one on each control arm bushing with the new hardware provided and then the factory rack and pinion bolts
Step 4: Install the remaining hardware. Push the x-brace against the vehicle so it sits flush and tighten the 4 lower control arm bushings
Step 5: Lastly tighten the rack and pinion bolts
Disclaimer
This instructional guide is intended to provide general information only. It is recommended a qualified mechanic install any products provided by Bavarian Speed Shop. In no event shall Bavarian Speed Shop be liable for any special, direct, indirect, consequential, incidental injuries or damages whatsoever.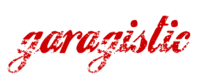 You've seen thecosts of shipping from overseas - not to mention those pesky Import GST& Duty add-ons. Buy local and get your product sooner! Not tomention, spend over $199 for FREE POSTAGE.

aussie, aussie, aussie....oi oi oi!

Australian Owned & Operated!


Every order is packed with a BSS sticker!


Call, Email or SMS us anytime. We are here to help you find the right part.


What's that? more parts!?

We are constantly looking to expand our product range. Support BSS and we will support you with a wider range of quality parts!